Iliya S. Mezdrokhin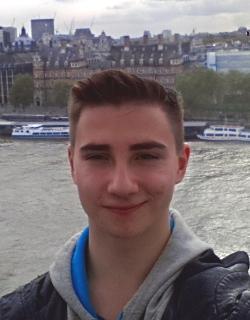 Areas of Research Activity:
Education:
2017 – 2019 – Department of Acoustics, Physics Faculty, M.V. Lomonosov Moscow State University, MS Program
2017 – Additional education. Non-state educational institution of additional professional education "Center for additional Education 101 course". Course of theoretical and practical training "Modern electrical equipment and its application" with assignment of qualification "Electrician for repair and maintenance of electrical equipment"
2013 – 2017 – Bachelor's program, Faculty of Physics, Lomonosov Moscow State University. The title of the thesis: "Modeling of diffraction and nonlinear effects in highly focused ultrasonic beams using a wide-angle parabolic approximation", scientific adviser: Ph.D., s

enior lecturer

 Petr V. Yuldashev, consultant: D.Sc., associate professor  Vera A. Khokhlova
2003 – 2013 – Lyceum №7, Electrostal city
Honors/Awards:
2017  Award of the young scientists presentations at the II All-Russian Acoustic Conference
2017  Student internship grant from Focused Ultrasound Foundation
Show additional information
Show publications
Publications
2018
"Wide-angle parabolic approximation for modeling high-intensity fields from strongly focused ultrasound transducers "